Disabling Talkroute Voicemail for a Forwarding Phone Number will send callers to the internal voicemail on the device. To disable Talkroute Voicemail, please follow the steps below:
Note: Disabling Talkroute Voicemail will also disable the Call Announce Feature. Please see the notes at the end of this guide to learn how this setting affects voicemail.
Disabling Talkroute Voicemail
1. Login to your Talkroute account and navigate to the Settings section.

2. Select the Forwarding Phones Numbers tab and click "edit" next to the forwarding phone number you wish to disable Talkroute Voicemail for

3. Uncheck "Enable Call Announce & Talkroute Voicemail" and click "Save & Close".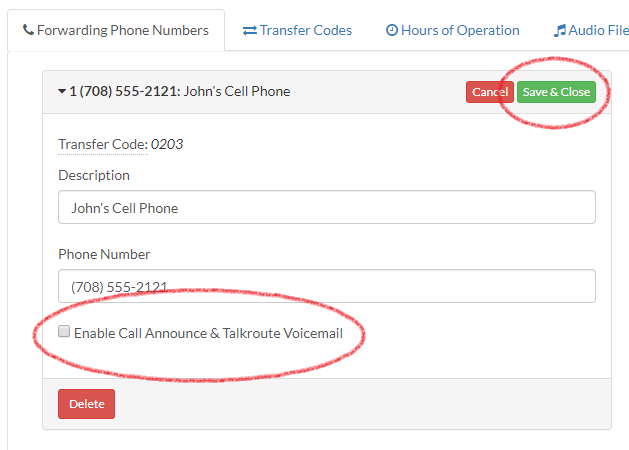 This section will provide more information on how to use a Talkroute voicemail box with the Voicemail Feature disabled and how to send calls to an internal voicemail box.
Please note that you can only customize the Talkroute ring time for a specific forwarding phone number under a Ring in Sequence configuration. A Ring All configuration will ring your listed phone numbers in 30-second increments and cannot be changed at this time.
Sending Calls to an Internal Voicemail Box: To send a call to an internal voicemail box on your device, there are two settings that need to be adjusted. First, the Voicemail/Call Announce feature for the forwarding phone number would need to be disabled (see above). Second, you would need to make sure that your Talkroute ring time is set to a higher time than it takes to get to your internal voicemail box.
Example: If it takes 35 seconds to reach your internal voicemail box when calling your forwarding phone number directly, you would want to set your Talkroute ring time to be 40 seconds or higher. That will give your internal voicemail box enough time to pick up the call before the call is sent to the end destination you have selected (Talkroute Voicemail, Go to Call Menu, or Disconnect the call). You can also request to have your forwarding phone number ring time changed to be higher or lower with your phone's carrier.
When testing these changes, you must dial your Talkroute Phone Number from a phone number that is NOT listed as a Forwarding Phone Number. If you attempt to call your Talkroute Phone Number from a Forwarding Phone Number, the call will disconnect or outbound dialing will be initiated (if enabled).
Don't have a Talkroute account?
Click here to try our virtual phone system for free!