Call Menu (also known as an auto-attendant, phone tree, or IVR) allows your callers to specify a specific department and/or individual that they wish to be routed to (press #1 for... press #2 for...). To activate the Call Menu, please follow the steps below:
Activating the Call Menu
1. Login to your Talkroute account and navigate to the Manager section.

2. Navigate to the Virtual Phone Numbers section and click 'edit' next to the phone number you wish to change.

3. Change the setting 'Choose where to route incoming calls' to 'Go to Call Menu' then click 'Save & Close'.

After this is complete it will automatically turn on your Call Menu. All calls to your Talkroute phone number will be routed to the default menu options that are provided with your initial account setup.
To learn how to edit or add a new menu option, please visit the How to Add Menu Options tutorial.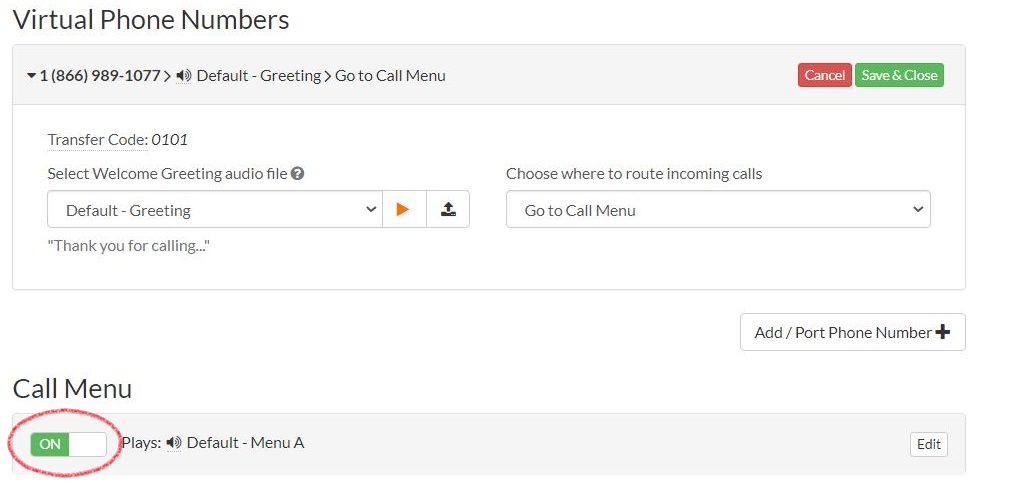 When testing these changes, you must dial your Talkroute Phone Number from a phone number that is NOT listed as a Forwarding Phone Number. If you attempt to call your Talkroute Phone Number from a Forwarding Phone Number, the call will disconnect or outbound dialing will be initiated (if enabled).
Don't have a Talkroute account?
Click here to try our virtual phone system for free!